The original International Nerdlesque Festival is back in NYC Spring 2017! Catch the best Nerdy Burlesque from around the globe in this one of a kind weekend dedicated to pop culture, community, and the art of the tease!
For the first time ever, catch BOTH nights of shows at the Official Home of Nerdlesque Festival, The Marlin Room at Webster Hall!
SATURDAY APRIL 29 Doors at 7 Show at 7:30
HOSTED by Nasty Canasta Feature Performer Red Rum Headliner The Shanghai Pearl PLUS Special guest, The Burlesque Hall of Fame Legend Pillow, as well as... Al Lykya - Seattle, WA - Firefly's Captain Mal Holly Ween - Somerville, NJ -the Alien Franchise Icon O'Clast - Cambridge, MA - X-Men's Dark Phoenix Imogen Quest - Ontario, Canada - Star Wars' Lando Calrissian Katie James - Tampa, FL - Batman's Harley Quinn Liberty Rose - Philadelphia, PA - Beetlejuice Lucky Charming - Boston, MA -Dr. Who Marie Merlot - Nashville, TN - Game of Thrones Mary Cyn - New York City, NY Batman's The Joker Minnie d'Moocha - Edgewater, NJ - Kate Bishop & Hawkeye Nyx Nocturne - New York City, NY - Cousin It Shirley Blazen - Chicago, IL - Pee Wee's Big Adventure Taylor Sweet - Asbury Park, NJ - Captain America, the First Avenger The irresistible O - Detroit, MI - Disney's Princess Tiana The Pink Room Dreams - New York City, NY - Twin Peaks Tuesday Addams - Boston, MA - Oregon Trail Veronica Voss - Los Angeles, CA - Back to the Future
TICKETS
TicketWeb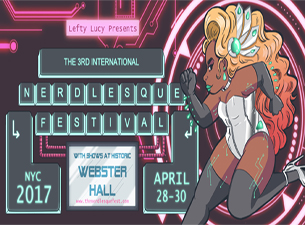 Find tickets for The 2017 Nerdlesque Festival showing at The Marlin Room at Webster Hall - New York on 04/28/17 7:00 PM EDT. Tickets starting at $20 available via TicketWeb.com
Read this on www.ticketweb.com >
Join us for classes, networking events, shows, and more! April 28-30 DETAILS
Note: this venue is unfortunately not ADA accessible.