On the night of June 3rd, actress Nichelle Nichols, 82, suffered a mild stroke. Her representatives have been keeping fans updated on her condition and have several statements since the 4th. 
Update #3 11:55am June 10, 2015
Nichelle Nichols will be released from West Hills Hospital this afternoon. She is doing very well and the doctors have high hopes for a rapid recovery with in home physical therapy. She is saddened to have to cancel this weekends appearance at Eternal Con but plans to get back on the road as soon as possible and has every intention of making it to FLORIDA SUPERCON in Miami, FL June 26-28, 2015.
Once again thank you all for the love and support.
"Nichelle Nichols has had both a CAT scan and an MRI today. The CAT scan came back negative and we are awaiting the results from the MRI. Currently she is awake, eating, in good spirits and able to have full conversations. Her right side has shown minor signs or mobility loss but she is not showing any signs of paralyses.
We greatly appreciate all of the love and support her fans are showing at this time."  -Zach McGinnis
Update #2 10:15am June 5, 2016
"The MRI showed that Nichelle Nichols had a MINOR stroke. She will start therapy this morning to evaluate how much damage was done, and try to determine her chances for a full or partial recovery. The therapists will test her hand at writing and legs to see if she can stand and walk on her own. Last night Nichelle remained alert, and cheerful.
When we told her about the love and support coming in from around the world she smiled and asked to see the posts on her facebook.
Thank you again for all of your kind words. Keep them coming because Nichelle is reading them.
Feel free to post your pictures with Nichelle and a story about when you met her." -Zach McGinnis
Despite assurances that Nichelle's stroke was mild and that she is doing fairly well, this news is particularly upsetting to fans because it comes less than 4 months after the devastating death of fellow Star Trek actor Leonard Nimoy from end-stage COPD. Grace Lee Whitney, Yeoman Janice Rand on the original series, died a little over a month ago, on May 1st. Simply put, Star Trek fans are NOT ready to lose another family member. Especially not one of the original cast members. Sadly, only 4 of the original main cast members are still alive: William Shatner, George Takei, Walter Koeig, and Nichelle Nichols. 
Despite her role as communications officer Lt. Nyota Uhura being her most known and recognizable role, Nichelle Nichols' career has covered an amazing 70 years and has been influential and varied. From starting out as a dancer with Duke Ellington's band as a teenager, to Star Trek, to working as a recruiter for NASA. Let's look at an extraordinary life well-lived in Nichelle's own words. Some things you might not know about Nichelle Nichols...
Nichelle is not just an actress. She's also an accomplished singer and dancer who got her first big break as a dancer and singer for the Duke Ellington Orchestra and the Lionel Hampton Orchestra when she was just a teenager. She studied at the Chicago Ballet Academy and the School of the Art Institute of Chicago (two very prestigious schools). 
 15 Year old Nichelle Nichols 
Many documentaries and studies have looked at Star Trek's influence on generations of scientists and the scientific field (a lot of fans, especially ofthe original series, unsurprisingly grew up and pursued careers in various STEM fields). However, a lot of people do not know the massive influence Nichelle has specifically had in this. Maybe more so than any other Star Trek actor. Nichelle was a recruiter for NASA from the late 70s to the late 80s. She specifially brought in many women and people of color to the space agency. She still does promotional work for them! Nichelle has also sat on the board of directors for the National Space Institute. 
Nichelle with some African-American teens at Nasa
From L to R: Yvonne Cagle, Mae Jemison, Sharon McDougle, Nichelle Nichols, and P. Bandopadhyay at the Women of Color in Flight event hosted by Mae Jemison
Nichelle promoting a next generation capsule for NASA and possible missions
http://www.startalkradio.net/show/a-conversation-with-nichelle-nichols/
Neil DeGrasse Tyson, Nichelle, and Ivor Dawson 
Trust me when I say that you really, really want to listen to Nichelle's episode of Star Talk (Neil DeGrasse Tyson's radio show). Nichelle and Neil DeGrasse Tyson talking space, NASA and love of science for nearly an hour IS what your life has been missing. 
Nichelle has had a massive impact on pop culture as an icon and inspiration to people of color, especially black women, as one of the trailblazers on television. Nichelle has often told the amazing story of how she met the Rev. Martin Luther King Jr., a massive Star Trek fan, and how he told her the importance of her role on Star Trek. Nichelle is living proof that "representation matters." 
http://www.npr.org/sections/thetwo-way/2011/01/14/132935327/for-mlk-day-lt-uhura-on-how-rev-king-told-her-to-stay-on-star-trek
http://www.makers.com/nichelle-nichols 
Nichelle recounting various stories (from her time with Duke Ellington, learning how Whoopie Goldberg became an actress because of her, her love of science and other stories)
"Mirror, Mirror"
Iconic
Nichelle Nichols is an amazing con guest. If you ever get the chance to see her in person, DO IT. You will not regret it. 
If you are a fan who goes to conventions, you quickly learn which celebs are the ones who make the price of admission and all your time waiting in line worth it. I have met Nichelle Nichols twice and have seen her at various conventions at least 3 times. In terms of guests, she is one of the greats. For one thing, she is a naturally gifted speaker and storyteller. As the videos on this post can attest to, one can listen to Ms. Nichols speak for hours without tiring. She is well-spoken, has a tremendous presence and draws in people like few people can do. 
Something that I have personally witnessed and watched in awe is how people treat Nichelle Nichols. I am not exaggerating when I say that she is treated like a queen at cons. Like actual royalty. Star Trek fans definitely consider her to be the queen of our fandom, of course, but it is more than that. I have seen this over and over at cons. At a Creation Con in Burbank, CA, I once saw Nichelle being escorted to the restroom. People stopped and gaped in disbelief. They stage whispered to themselves. Oh my god, is that...is that Nichelle Nichols??  I mentioned that Nichelle has presence? Well, it's a tangible thing and something few people seem to have these days. She carries herself with the poise and grace of someone who is completely comfortable in their skin and who absolutely knows their worth, to quote another iconic character. It is frankly quite intimitating. Or at least it would be if....
Nichelle Nichols was not one of the nicest celebrities I have ever met. And I have met quite a few. I do not judge actors and celebs who are visibly uncomfortable or awkward doing the whole fan meet-and-greet/photo op thing. I am always super nervous and excited to meet my favorite people but I cannot imagine how odd it must be from their perspective. Especially if they are new to the whole experience. That said, I have absolutely met people who did not live up to my expectations. Or who were, quite frankly, jerks. In contrast, meeting Nichelle was a dream. She is incredibly warm and kind. She takes the time to give each fan individual attention. Even in the face of a massive line of people. Even though she's advanced in age and obviously tired. The first time I met her, in a photo-op, at a con in like 2007, she asked about the shirt I was wearing in the picture. I told her that I wore it because meeting her made me feel like I was in a comic book. Like something unbelievable was happening. She thought that was wonderful and hilarious. The second time I met her, at San Diego Comic Con in a signing line, she asked me about myself, asked me about my mother, like I was family. I told her that my mother had passed away when I was 18, but that she was a massive Trekkie and the person who gave me my love of Star Trek. Nichelle took my hands, looked into my eyes, and told me that my mother would be proud of me. That I was a credit to her legacy. I was, understandly, very overwhelmed. I mean, I was a stranger to her. Just another fan. Yet she took the time to have an incredibly intimate moment with me. Because she cared. That's the type of person Nichelle Nichols is.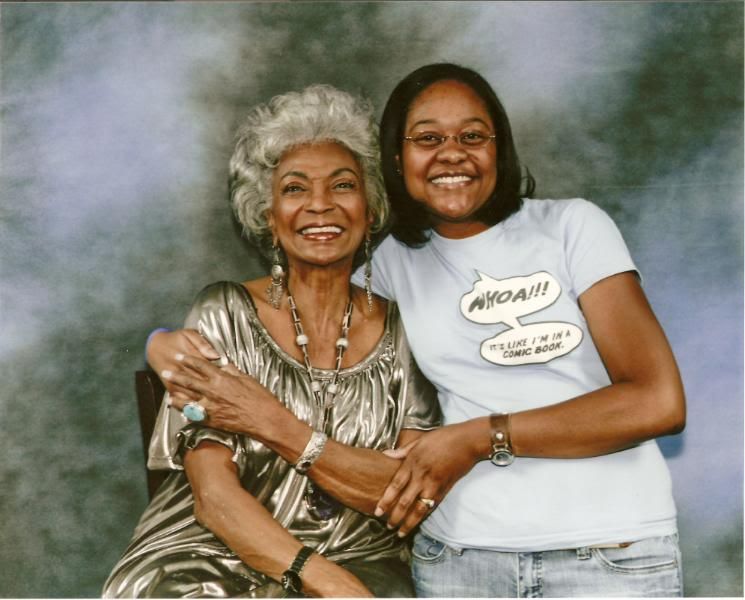 Me and Nichelle in 2007
Giving the world Nyota Uhura is a tremendous thing, but if that is the only context you know Nichelle Nichols in, I implore you to look Beyond Uhura (the title of Nichelle's 1994 autobiography) and see why she is one of the world's most beloved pop culture figures. We all wish for a speedy and comfortable recovery and that this icon continue to live long and prosper.