We often look for representation of ourselves among the media we love as a form of validation, the same way we look at a mirror and see a reflection of ourselves smiling back at us. While more and more representation of the LGBTQ community has appeared within the realm of fiction such as realist fiction, for those who are avid fans of fantasy fiction or those who just want something a little different, check out these 10 queer young adult fantasy titles.
---
Ash by Malinda Lo
I first heard Ash described as a queer retelling of Cinderella, and in that way, it did not disappoint. The book follows the basic Cinderella premise: young motherless girl is orphaned and left to the mercy of cruel stepmother, and througout the course of the story encounters magical creatures and true love. But with Ash, there's a twist: instead of falling in love with the prince, Ash falls in love with Kaisa, the King's Huntress. In this book, Malinda Lo infuses elements of the classic Western fairytale with dark fairy lore, with a touch of healthy consensual romance between two young women. There are several reasons to love this book, particularly the way the author highlights the difference between healthy and unhealthy relationship, from the abusive hold that Ash's stepmother holds over her, to the lovely relationship Ash holds with Kaisa, a romance that develops naturally over time with genuine affection and respect. Also, the author identifies as queer, and while it's not mandatory for a novel with LGBTQ themes to have an LBGTQ author, this fact only adds to the beauty of this queer love story. Recommended for anyone interested in fantasy, fairytale retellings, and queer romance.
---
Everyday by David Levithan
Though not fantasy in the traditional dragons and wizards sense (because there are several types of fantasy and each is worth looking into) there are elements of the surreal in protagonist A who is literally able to transcend their physical bodies on a daily basis. Within Everyday, David Levithan has written a rare type of protagonist, in which they chose to be defined by no gender and simply choose to exist as A. One of the most fascinating aspects about this book is the beautiful way in which A observes the world full of wonder and delight, looking at it through the same eyes in the lens of an ever changing body. It should also be noted that David Levithan is gay, with best-selling titles that have positive queer elements, including Boy Meets Boy and Two Boys Kissing. Recommended for anyone interested in alternative fiction and non-binary protagonists.
---
Darkest Part of the Forest by Holly Black
Reading* Darkest Part of the Forest,* the reader finds a witty and personal reflection of our world touched by the dark and beautiful elements of fairy lore. Holly Black's book takes place in an average town made famous for only one thing: the fairy prince that lies enchanted in a glass coffin in the center of its forest. One night when the coffin is broken open and the prince is set free, siblings Hazel and Ben reflect on the knighthood and monsters of their childhood in order to confront the darker magic that threatens to tear their town apart. *Darkest Part of the Forest *takes place in a town where magic is part of everyday reality. In addition to Black's uniquely beautiful use of language and dark humor, the book features some excellent diversity in its gay and bisexual representation, as well as rare representation of non-white magical creatures, i.e. an African-American changeling, and an interracial romance. Recommended for those interested in dark fairy lore, queer representation, and urban fantasy.
---
The Bane Chronicles by Cassandra Clare
With the ever present television show, film adaptation, and bestselling series, many of us are already aware one of the most popular ships in Shadowhunter, Malec (for those of you who don't know, Malec is a combination of two male characters' names, Alec and Magnus, who are involved in a romantic relationship). The Bane Chronicles acts as an extension of the original book series, a collection of short stories revolving around its main character, Magnus Bane, a centuries old immortal Warlock and the various adventures he has taken across the world and through time. Though one may be drawn in or put off by the hype of the Shadowhunter fandom, the book acts as a worthy stand-alone read, a combination of funny, sweet, and sad stories told from the perspective of a unique and magical protagonist. The main appeal of these books comes from its titular protagonist, whose combination of charismatic charm, blunt honesty, and genuine vulnerability draws the reader in closer, laughing at his wild adventures and sympathizing with each new risk at love throughout the centuries. Plus, it's sweet to see an LGBTQ POC as the main protagonist of a popular fantasy series. Whether it's about upsetting llamas in Peru or falling in love, reading Magnus Bane's adventures in* The Bane Chronicles* would not be a waste of time. Recommended for those interested in historical fantasy, urban fantasy, and queer leads of color.
Six of Crows by Leigh Bardugo
Before I even start with this recommendation, I had already come to the realization that Six of Crows is not only one of the best fantasy novels I've ever read, but one of the best books I've read, period. Think about the things you've always wanted to see in a fantasy setting: badass female characters, queer representation, disability representation, and then add magical abilities and a high stakes heist, and then you would only get close to the basics of this book. Author of the popular Grisha Trilogy, Leigh Bardugo outdoes herself in Six of Crows, in which a group of six talented young individuals are one day assigned a mission: break into the world's most impenetrable prison and survive. Reading this book, you get the idea that you are reading a beautifully and dizzily constructed puzzle box, one that keeps shifting at every turn with each new piece of information, never falling to stun the reader as to what happens next. Recommended for those interested in historical fantasy, young heroes with magical powers, incredibly written POC characters, canon queer characters, mental and physical disability representation.
---
Love in the Time of Global Warming by Francesca Lia Block
Rather than a retelling of fairytales, Francesca Lia Block has chosen to create a retelling of Homer's epic poem, The Odyssey, telling it from the point of view of Penelope, or Pen, a young self-proclaimed introvert and bookworm who finds that Homer's story is the perfect survival manual for a world ravaged by apocalyptic weather conditions and actual monsters. In this science fiction/fantasy novel, Pen explores a world, separated by everything she has ever known and loved, who must journey out into the world to find her family, and in the process, find a new family of her own. This series has achieved immense success and popularity while simultaneously portraying primary characters who all happen to be queer in way and form, whether bisexual, gay, or transgender. Recommended for those interested in in Greek mythology, rejecting gender norms, and an all-LGBTQ fantasy team.
---
Santa Olivia by Jacqueline Carey
Written by the creator of the Kushiel series, author Jacqueline Carey has created a dystopian fantasy in which Loup Garron (Note the similarity to Loup Garou, which is French for werewolf) enacts vigilante justice for her town disenfranchised by the hostile military forces who occupy it. The book takes half Latinx, half African-American boxer Loup, an orphan in the occupied border territory formerly known as Texas, born with enhanced abilities who uses said superhuman strength in order to combat the cruel control exacted over her friends and fight for her freedom as her town's patron saint, Santa Olivia. Recommended for those interested in sex positivity, discussion of rape, domestic violence, military abuse, and queer POC leads.
---
The Raven Cycle by Maggie Stiefvater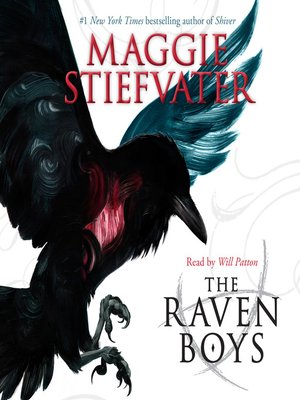 First of all, I should mention that this is not a single book, but a series of four books (all of which are recommended). The Raven Cycle starts with Blue Sargent, the lone non-psychic in a family of diviners, who encounters an unusual set of private school students whom she dubs the Raven Boys, all of whom searching for a lost king. One other important fact about Blue is that she possesses an unfortunate curse, the possibility that if she were to kiss her true kiss that the person would die. There are so many things I can say about this series, yet the LGBTQ representation may be one of the best parts, done in such a way that is subtle and elegant at the same time without feeling the need to scream it into a microphone, covering both characters who struggle with their identity and those who don't at all. Recommended for those interested in incredibly written prose, urban fantasy, prophecies, and curses.
---
The Lyburn Legacy by Sarah Rees Brennan
Kami Glass is marked as oddity in her small English town, both for her Japanese descent and eccentric journalistic ambitions. She encounters a mystery the likes of which her terrified town refuses to talk about, yet chooses to pursue the case, even at the risk of her own life. Though the series focuses on a heterosexual pairing, the author's discussion of consent, racial stigma, and inclusion of a well-written queer female couple, along with the creation of a captivating mystery set with magical elements is definitely a series worth looking into. Recommended for those interested in lesbian and bisexual representation, discussion of power dynamics and consensuality in relationships, sorcerers, and small-town mysteries.
---
Huntress by Malinda Lo
Again, here is Malinda Lo writing a fantasy novel with queer elements, combining Chinese mythology and dangers of prophecy with a sweet same-sex love story. When crops are failing and dark magical forces encroach upon the kingdom, two young women, Kaede and Taisin, must journey together across the land in order to find the solution to this problem and save their land. Again, Lo creates a fascinating fantasy setting, this time infused with elements of Chinese culture, including influences from the I Ching, a source of ancient divination knowledge and one of China's greatest classics, while also featuring a sweet same-sex pairing between the warrior Kaede and the gentle oracle Taisin. Recommended for those interested in reading about folklore and queer Asian characters in high fantasy.