STOP! THE! MOTHAFUCKIN'! PRESSES! 
Gay geeks are back in the spotlight with Marvel Comics's announcement today—live on the air on ABC's (owned by Disney!) The View, no less!—that out and proud X-Man Northstar will marry his longtime hunky beau Kyle in June's Astonishing X-Men #51.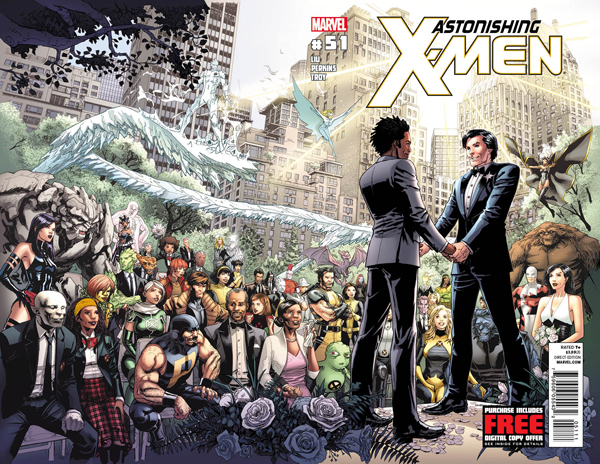 Marvel's wasting no time getting the word out:
In a long feature in Rolling Stone, Marvel Editor-in-Chief Axel Alonso affirms, 
"When gay marriage became legal in New York State, it raised obvious questions since most of our heroes reside in New York State. Northstar is the first openly gay character in comics and he's been in a longterm relationship with his partner Kyle so the big question was – how would this change his relationship? Our comics are always best when they respond to and reflect developments in the real world. We've been doing that for decades, and this is just the latest expression of that."
The Huffington Post has a front-page interview with Alonso and the Astonishing X-Men creative team (including our friend Dan Ketchum!):
Traditionally, the X-Men have always been a metaphor and inspiration for misrepresented communities, including the LGBT community. How was that thematic history considered when holding the wedding in Astonishing X-Men?

Ketchum: If nothing else, the historical precedence of the X-Men serving as a metaphor for marginalized communities gives extra clout to a gay-marriage story in an X-Men title. The X-Menfranchise has always been a pioneer in exploring matters of difference in mainstream comics, and I'm happy to see that trend continued. And I'm excited that our stage can be Astonishing X-Men in particular, a book whose mission statement is spotlighting prestigious creators and stories, starting with Joss Whedon's run on the title.

Axel, do you see this marriage as a major mark of progression for diversity in comic books?

Alonso: Yes, but this is first and foremost about good storytelling. Marvel has a long and proud tradition of reflecting the world in all its diversity, and this is just one more example of that.
Bleeding Cool—who got the scoop about DC's upcoming gay character—broke the story of today's televised announcement. For the cynics among you, they also point out that the storyline and resulting media buzz have "massively" boosted orders for the title.
Nerd-bait websites like Stuff We Like and The Mary Sue also took note of the mainstream media attention. 
Gotham's own New York Daily News quotes GLAAD President Herndon Graddick:
"When a major comic publisher like Marvel not only includes, but publicly celebrates, the legal wedding of two of its gay characters, it reflects how supporting same-sex couples has become the new normal. Readers expect to see their realities portrayed in these fictional worlds and today that includes married gay and lesbian couples."

Gay- and geek-friendly glossy Entertainment Weekly has this to say on the development and what it could mean for comics: 
But let's be honest. This is a huge deal. Geekery as a subculture has always skewed towards heterosexual male dominance — note how many female characters there were in Avengers — which is what happens when most of the people creating and reading mainstream comics are straight dudes. Usually, this just manifests itself in aesthetic adolescent douchebaggery — see the Barbie-like dimensions of every female character in comics. But the dominance of that single demographic can also create a sense that mainstream geekdom is hermetically sealed. (Note the outcry, however minor, over the possibility of gay relationships in Mass Effect 3.)
While the X-Men are primarily associated with New York City (and Westchester)—and early art as well as New York State law suggests the wedding will take place here—fully half of Marvel's mutants are based on the West Coast, specifically San Francisco. Not to be outdone by East Coast rags, the SF Gate picked up the story. 
The Advocate had a preview of the story, as did our friends at Queerty, who added a sassy shout-out to oft-overlooked lesbian Karma, whose presence in the new Astonishing X-Men lineup pushes its LGBT count to a healthy two, which is a lot higher than most.
USA Today quotes Marjorie Liu, writer on Astonishing X-Men:
Writer Marjorie Liu has embraced that mind-set, too, in her Astonishing X-Men stories. In addition to Northstar's proposal to his boyfriend — which doesn't go quite as planned — she also pens a scene where Northstar talks to his fellow X-Men about his love life while on a mission.

"These are men and women with lives outside the X-Men. You can't be on the job all the time, right?" Liu says. "Why not take an evening and walk through the city, eat ramen at Ippudo, see a movie or hang out at a bookstore? They are mutants, yes — definitely superheroes — but also people who live in the world alongside everyone else."
The Washington Post talks to three comics industry figures, including Archie Comics CEO Jon Goldwater, about whether this announcement and DC's suggest that mainstream comics have undergone an Obama-like evolution. 
Crave Online looks at the evolving views of the "Big Two," too, saying,
Overall, this is a great sea change for an industry steeped in appealing to lady-ogling testosterone factories in the past. Progress. At last, progress. Both of these efforts could come off as obnoxious, as going on The View might seem to anybody, but Marjorie Liu's writing Astonishing X-Men #50 (and Greg Land isn't drawing it), and we trust her to make sure that Jean-Paul and Kyle work out well. Once, this would've been something they had to sneak by an editor, or probably fight to get through - and now, Marvel is proud of this, enough so to make a big deal out of it. Let's spin it that way, and not think it's a shameless publicity stunt.
Where have you seen this? It's a safe bet that lots of local ABC news affiliates are picking up the story as more and more local comic conventions learn the power of the gay geek presence. What's your take on this story?
Be sure to celebrate with us next month as Geeks OUT hosts a Pride Month blow-out for the lucky guys!