CBR debuted the cover of Earth 2 today and it gave us the first look at the newest woman to carry name "Hawk". Apparently this is a reboot of Kendra Saunders. It's good to see that Earth 2 will have a PoC in the cast.
NICE.
CBR originally got the
scoop
. This Hawkgirl debuts in James Robinson and Geeks OUT favorite Nicola Scott's
Earth-2 
#4 as one of three new heroes who emerge after the deaths of their world's Superman, Wonder Woman, and Batman. She'll join the new Earth-2 versions of the Flash (Jay Garrick, seen at the end of #1) and
Alan Scott's Green Lantern
, who debuts in 
Earth-2 #3.
 If you're a follower of
the character
, word on the street is that the Earth-2 Hawkgirl is a Kendra, not a Shayera. (
Worlds' Finest
, featuring the New 52's Power Girl and Huntress, follows Earth-2's Supergirl and Robin here on "our" Earth as they try to get back home.)
Says Earth-2 scribe Robinson: 
"I'm excited for readers to see this new Earth 2 version of Hawkgirl... As the co-creator of the original Kendra Saunders, I've taken pains to keep the essence of her personality while adding a more two-fisted quality to her as well. I'm also enjoying developing another aspect to her, in that with the absence of Batman, she must also step up and become the great detective of Earth 2. I hope readers will enjoy watching her find her place in this new world as a part of this new team of heroes."
pre-New 52 Hawkgirl (Kendra Saunders)
Do you love the new look? I kind of love it!
As Shayera (pre-Crisis),
Hawkwoman
was an elegant, powerful matriarch, almost queenly next to Hawkman. Whether an alien police officer or reincarnated Egyptian goddess or both or neither (thanks, DC!), she was a stalwart of the JSA. And she was a redhead, extra-interesting alongside the blonde Supergirl and black-haired Wonder Woman.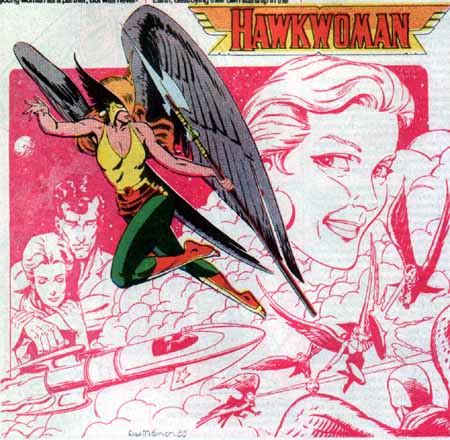 Old-school Hawkwoman
Kendra Saunders, the pre-New 52 Hawkgirl, had a spunky, more athletic and youthful look, but also swung a mean morning-star. I really dug the crop top and punkier, spikier Wolverine-esque hawk mask. 
Thanagarian Realness
 
Nicola Scott's new look keeps the two-piece template of the pre-New 52 Hawkgirl's costume but alters key details—I AM LOVING the rounded, falcon-like helm! Updating the color palette from the classic red-green-yellow to a cool black-and-turquoise combo seems like a smart move, too. It very efficiently moves the character out of the previous incarnation without requiring all-new details or concepts (which makes sense if it's a different world's version and not an entirely new character).
Do you miss the mace? I miss the mace. I loved DC's warrior women, from Big Barda and
Power Girl
to the similarly-winged Dawnstar. Giving HawkGIRL a brutal, butch weapon like a HUGE MACE was the sort of clever touch that I liked in the pre-New 52 DC's use of its heroines. These guns? Hm, interesting. I'm not as turned off by this as I usually am by superheroes-with-guns. Maybe it's the context of the post-apocalyptic (we all really mean Darkseid, right?) atmosphere of Earth-2 after the demise of the Trinity, but it works—and especially if she's taking over Batman's mantle as the detective / crimefighter. I hope they give her some sort of cudgel, though. Streaking through the sky to deliver the WHALLOP to a baddie is still way more bad-ass than strafing a crowd of zombies from overhead.
Look closely, too, and you'll see what look like tight braids, some with beads, coming out from under her helmet, indicating potential—and welcome!—racial diversity among classic JLA characters. Brava!