What was the deal with Fang and Vanille? Were we supposed to believe in their sisterly love, strong enough to save entire planets? Or was something more sapphic happening? If so, why couldn't Square Enix create openly gay characters?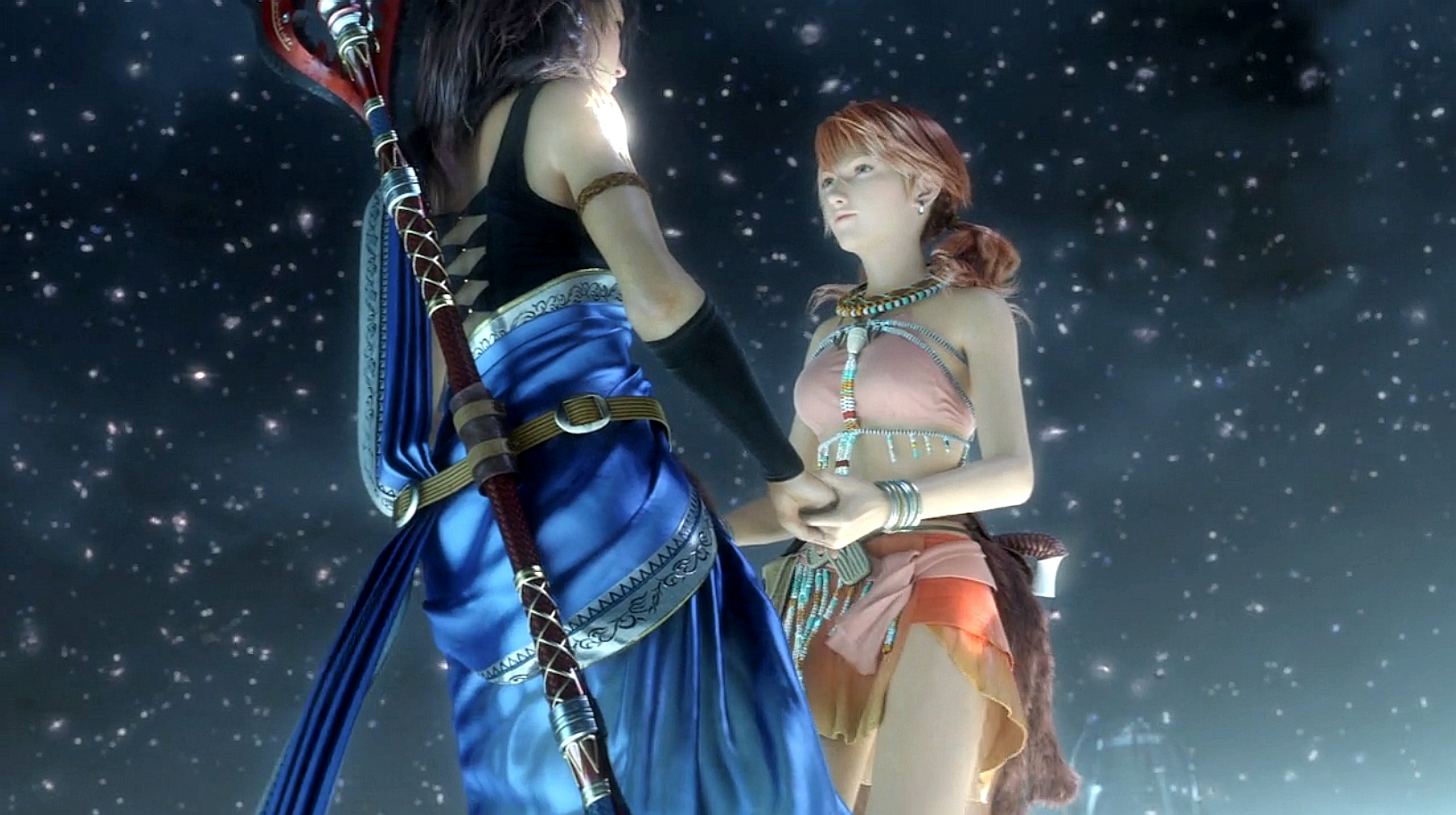 The Final Fantasy series has had a bit of an identity crisis in the past ten years, with games ranging from Sailor Senshi Realness to MMORPG nightmares. Square Enix recently admitted their faults, only now coming to terms with the fact that Western gamers enjoy more traditional turn-based gaming. What Square Enix's directors and higher-ups failed to mention was the more complicated issues of character development within their series.
This will not be an essay which decries the FF franchise for it's lack of LGBT representation, a point which be almost too easy to make. What Squeenix's failure represents is emblematic of a greater issue within mainstream media, that is to say, a blatant disconnect of content creators from their content consumers. With the breakaway success of female-led franchises (Hunger Games being the prime example) and LGBT characters becoming more and more prevalent (with celebratory reactions from fans and critics alike) it becomes harder and harder to deny the appeal of three dimensional non-traditional protagonists within all genres of media.
Yet, it seems strange to criticize a series which has for so long (and in subtle ways) played with the gender binary. As with most video game franchises, these games are almost ostensibly marketed towards heterosexual males, however mechanics within each game have focused on everything from drag makeover mini-games (FFVII) to fighting sytems based on flowery costume changes (FFX-2, FFXII Lightning Returns). Various characters throughout the series have skirted the edge of androgyny and homo-sociality without so much as touching on themes of queer sexuality or sexual identity. Much like in other media formats, there seems to be a glass closet surrounding the series. The gender binary can be questioned, even in the post-modern and detached of ways, but certainly never shattered.
That being said, we can not discount the ways that Japanese cultures have different regimented beauty standards that fall within traditional categories of masculine and feminine. Without orientalizing, what is often seen as effete or femme to Western audiences (the floppy haired androgynous heroes of FFIX and FFXII, for example) are perhaps more acutely recognized as traditionally compliant to the gender binary in a more Eastern setting. If we take the socially constructivist stance on gender seriously, such cultural distinctions must not be ignored when addressing these issues. However, cultural relativism does not excuse the refusal of major industry players to ignore the LGBT community.
And in a way, Square Enix should be praised for their tactful handling of (what always seemed to me) a patently interesting and deeply loving gay relationship without having to go into the details of the sexual proclivities of the FFXIII's heroines. But is their lack of admission of the characters' (imagined or real) gay relationship tasteful or cowardly?
As a post-script, it is interesting to think of these kinds of problematics in terms of less obscure material. For example: How will the Sailor Moon reboot handle the overtly queer themes present in the original source material? Is the WWE's handling of openly gay athlete Darren Young's storyline (in which his homosexuality is always tacitly acknowledged but never overtly mentioned) classy or tacky? What other franchises have glass closets?