There ain't nothing I geek out (heh) harder for than the magical, nasty world of Twin Peaks. The 25-year-old show is returning to TV for a limited run on Showtime next year. This week, Kyle MacLachlan officially announced he'd be returning as the [SPOILER] doomed Agent Cooper, possessed by the evil spirit of BOB in the cliffhanger series finale. Log Lady Catherine E. Coulson has already announced her involvement, as has The Girl in Plastic herself Sheryl Lee. But in celebration of the resurrection of Twin Peaks' most important character, I'll seize this opportunity to speculate on who else we can (I hope) see come back.
MOST LIKELY TO RETURN
Twin Peaks's bread and butter has always been those headstrong, mysterious Lynch women. The 2016 episodes will be a lesser show without them, and Lynch knows this. That's why number one on his hit list should be: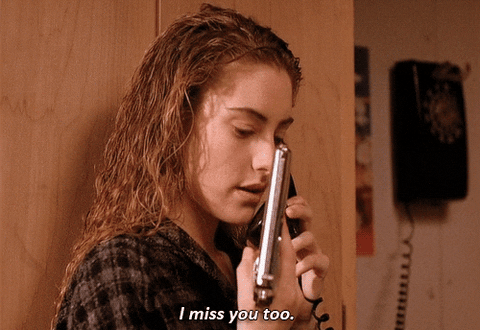 Madchen Amick as Shelley Johnson. Amick has kept a close relationship with Lynch over the years, and her run on Witches of East End is over just in time to be available for filming. Shelley is also one of Twin Peaks' few surviving innocents, and she deserves this gold star. 
Grace Zabriske as Sarah Palmer. The Great Grace cannot sit this one out. Her burgeoning psychic visions never got a full exploration, and I want to see her claim her revenge against the spirit that killed her daughter and corrupted her husband.
Heather Graham as Annie Blackburn. A late addition to the series, an imperiled Annie lured Agent Cooper to his eventual Black Lodge-ian purgatory. The last lines of the series were a ghoulish "How's Annie??" My money says Graham's game to let us see how she's doing.
LEAST LIKELY TO RETURN
It's been 25 years, and a lot of TP's residents have either retired or passed on. Or worse yet, show little interest in their old stomping grounds. That's why (sigh) we won't see:
Sherilynn Fenn as Audrey Horne. My queen Audrey got blown up in a bank vault in the last episode, and word is we would've seen her survive had the show been renewed.  Yet she refused to be part of the Fire Walk With Me movie (that's bad), but she partook in the TP reunion on Psych (that's good). As much as I want Audrey and Cooper to have that autumn romance they always longed for, my senses tell me she's done.
Lara Flynn Boyle as Donna Hayward. Before the revelation of BOB, I always believed Donna was Laura's killer. Donna has a darkness that I would love explored, and I'd kill to see Donna as a boozed-up, plastic surgery nightmare wife to Evil Cooper, but I just cannot imagine a universe where LFB eats enough humble pie to return to pie-abundant Twin Peaks.
FRESH FACES
Lynch has hinted that Season Three will feature new faces as well as old favorites. I embrace this because the possibilities are endless when it's his first significant time behind the camera in almost ten years. I think the talent will crawl from the woodwork to be on this set. Which is why I'm starting my wish list with a bang:
Laura Dern as ANYBODY. She's killer on TV (Enlightened), she's Lynch's golden girl, and there's no way she'd turn this down after playing Everyone's Mom in Every Movie this year. I say she becomes the new Cooper, an FBI Agent come to town to investigate a spooky goings-on. I'd give up caffeine just to have Dern and MacLachlan reunited 30 years after Blue Velvet.
Amber Tamblyn as Dr. Jacoby's Daughter, of course. Because you gotta have Russ Tamblyn back as the groovy shrink. Bonus points for bringing Amber's eccentric, scene-stealing husband David Cross into the mix.
The Glee Boys as the New Bad Boys in Town. The young men of the original Twin Peaks were hot, dumb, man-candy messes doing their best to keep up with their sleuthing girlfriends. Glee is ending and—hate it or not—that show's acting style shares a planetary orbit with Twin Peaks's candy-colored earnestness. Poach Darren Criss and Chord Overstreet as the new, drug-dealing jocks Mike and Bobby, and Harry Shum Jr. as the new, sweet-natured biker James.
Lastly, bring back Alicia Witt as Donna Hayward's little sister (whom we saw briefly but memorably as a piano prodigy). Either she takes LFB's place in the Hayward household, or (gay gods be praised) LFB returns and it's up to Witt to help her sister out of a jam. 
More casting announcements roll out soon. I'll see you in the trees.