The Ghostbusters casting is brand new news, but it's already feeling as overexposed as Ray Parker, Jr.'s theme song. The movie will undoubtedly be fabulous with that cast; all four actresses are the current leaders in comedic performance of either gender. Kate McKinnon will be the crown jewel in my estimation. The reigning genius performer at SNL doing the most yeoman work with the most sluggish material, Kate is known in our circles for her start on Logo's The Big Gay Sketch Show (where, to be honest, she got her first taste of doing amazing things with sluggish material).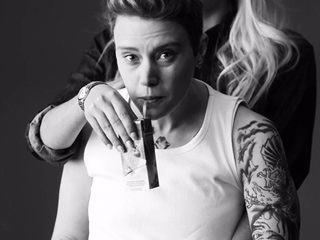 This is why I believe Kate will be the Aykroyd of this adaptation; a powerhouse chameleon next to the splashier Kristen Wiig, whose national fame and taste for making weary indie pictures is positively Bill Murrayan.
The public response has been swift but tiresome, even more so than I expected. The obvious ones run the gamut from "stay out of the comments" anti-women screeds to grumblings of childhood ruination. The less obvious responses come in the wackadoo form of thinkpieces about how the original Ghostbusters "wasn't that great to begin with" or accusing it of being glorified dudebro comedy.
Sorry, but slapping Ghostbusters with the same red stamp as American Pie or Old School or The Hangover or some other ungodly dude-romp is out of line. No dick-flick ever came up with a woman as faboo as Annie Potts's Janine Melnitz. The gays of Twitter are casting themselves in her bug-eyed glasses as we speak.
What's clear from this immediate detonation of opinion is that nothing makes people geekier than this property. Dudes bring their dude enthusiasm to it, yes, but this movie belongs just as fiercely to women. It's a comedy for all seasons and all people. Except gays; for us, Ghostbusters is the Annie & Sigourney Show with a VERY long subplot they keep cutting away to.